---
January 2020 Athlete of the Month
By Bonnie Davis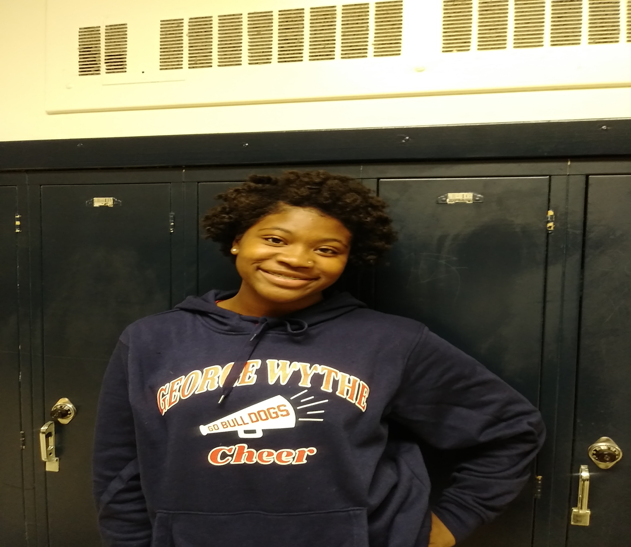 Shatavia Vines
Sport:             Varsity Cheerleading
School:           George Wythe High School
Class of:         2022
GPA:                  3.0
Family: Tayshon Vines (Brother), Ja'mon Fraierson (Brother), Taleshia Fields (Mother)
Hometown:  Richmond
Current City: Richmond
Favorites:
Color – Blue
Movie – Night School
Pro Football Team – Washington Redskins
Food – Macaroni and Cheese
School subject – History
Pro Basketball Team – None in particular
Personal motto – Live everyday like it's your last
---
How long have you been a cheerleader?
Since 8th grade. I'm now in 10th grade.
What do you enjoy about cheering?
I like the challenges that cheerleading presents and I enjoy the intensity of the games in which we cheer. Also, being a cheerleader helps me be a better communicator. I'm a people person and enjoy meeting new people, something I can do as a cheerleader. I also enjoy cheerleading because it's a way to provide support to our athletic teams. 
Do you plan to attend college after high school?
Yes 
Where do you plan to attend college?
East Carolina University is my first choice and Old Dominion University is my second choice. 
Which sport is your favorite?
Basketball! I especially like to see the teams play at my high school, George Wythe.
What do you like about it?
The intensity of the game, the excitement and the fans' reaction, especially when we win! 
How do you balance your cheerleading with your studies?
I put my studies first. Any block that I'm free I'll finish my homework assignments or class work.
What has been your proudest moment?
Winning athlete of the month. I was excited to learn that I was nominated and declared the winner for January 2020. It is such an honor! 
What type of community service are you active in?
I have been involved in Yovaso (Youth of Virginia Speak Out), which is a teen driving organization that promotes safety and saving lives, and other activities.  We provide information about safe driving tips such as not texting while driving. We also pass out bracelets that have phrases that promote safe driving. 
For what are you most grateful?
Waking up each day and for the people – family and friends – that I love. I'm also grateful for my two cheerleading coaches Miquelle Lamb and Kimiko Gardner, who both inspire me. 
Who or what inspires you?
Any and everything positive.
What is your career goal?
I want to become a psychologist because I like helping people get through their problems and I am a good listener.
What advice would you give to other young people?
Be yourself no matter what. Nothing can ever stop you as long as you don't allow it to do so.