By Bernard Freeman
Part 1 of 3
Why Drink Water?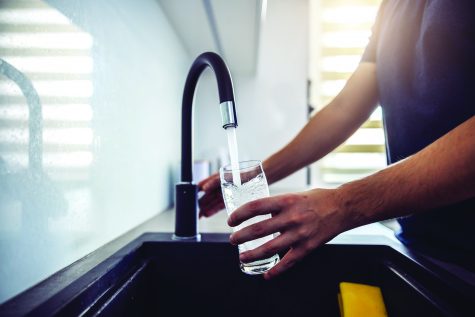 All life on Earth relies on water. Drinking water everyday consistently can bring added benefits to your life and your health. Drinking water every day can make you feel better throughout the day.
Rethink the Drink
Drinking too many sugary drinks can lead to significant health problems in the future. Sugary drinks are anything sweetened with added sugars. Sodas, fruit drinks, sport drinks, energy drinks and coffees are considered sugary drinks.
The CDC says people who often drink too many of these sugary drinks are prone to face health problems such as weight gain, kidney disease, obesity, type 2 diabetes and more health issues. Limiting the amount of sugar you drink can help you prevent these kinds of diseases and help you lose weight.
How Water Helps Your Body
Water not only keeps you hydrated and feeling good, but the Centers for Disease Control and Prevention says water also helps your body by keeping your temperature normal, lubricating your joints, protecting your spinal cord and other sensitive tissue and gets rid of wastes through urination, perspiration and bowel movements.
Your body needs water more if you live in hot climates, are more physically active, sick or running a fever and having diarrhea or vomiting. Water helps your body in so many ways ­— and does more for your body than sugary drinks such as sodas and energy drinks can do for you. You may feel awake and good as you drink the sugary drinks, but unlike with water, the feeling from sugary drinks doesn't last.
Healthy Drink Options
Sometimes you need to ease yourself into the habit of drinking water if you've spent all your life drinking sugary drinks. Try these tips from the CDC to help ease yourself into drinking more water and less sugary drinks.
Try plain black coffee or teas, sparkling water, seltzers or flavored waters if you want some hydration with a little more flavor than water. You can also drink 100% fruit or vegetable juice to get some of that flavored hydration.
Tips for Drinking More Water
You need more water as the climate gets warmer, and with summer coming, it's the perfect time to get started creating a habit of drinking more water. To help you, here are some tips:
Carry a bottle of water with you and refill it throughout the day.
Freeze some freezer-safe water bottles. Take one with you for ice-cold water that will last all day long.
Opt for water when eating out. You'll save money and reduce your calorie intake.
Add a slice of lemon, lime, cucumber, or berries to your water for added flavor if you don't enjoy the taste of water itself.
Missing fizzy drinks? Add a splash of 100% juice to plain sparkling water for a refreshing, low-calorie drink.
Need help breaking the habit? Don't stock up on sugary drinks. Instead, keep a jug of cold water in the fridge.
Water just won't do? Reach for drinks that contain important nutrients such as low-fat or fat-free milk, fortified milk alternatives or 100% fruit or vegetable juice.
At the coffee shop? Skip the flavored syrups or whipped cream. Ask for a drink with low-fat or fat-free milk, milk alternatives such as soy or almond, or go back to the basics with black coffee.
Little Changes Matter
Making the switch to a healthy diet doesn't have to be immediate, though. Start with a gradual, modest change to your diet. Small changes, such as drinking more water than sugary drinks each day or putting less sugar in your morning coffee. As time goes on, you can slowly and gradually add more goals and changes to your routine. Create goals for success and don't set yourself up for failure.