DINWIDDIE VA – You Can Do It, Just Put Your Mind to It! is a new children's book by Dinwiddie native, Ashley Clarke, that shows the power of exercise to help solve life's daily challenges.
As a Certified Personal Trainer and Nutrition Coach, Ashley Clarke has a passion for all things exercise and nutrition. Currently living in Atlanta, Georgia, and working to build her personal training business, Ashley enjoys spending time exercising anywhere there's fresh air, deadlifting objects three times her size for fun, or whipping up delicious smoothies.
Ashley has created a results-driven book that teaches elementary aged children how to cope with testing anxiety and support healthy bodies and brain power by using movement and encouragement so that they can go from a state of doubt, to feeling confident that they can achieve anything even acing their tests at school.
You Can Do It, Just Put Your Mind to It! is a book that shows young people that anything is possible.
The main character, Dallas, really wants to ace his Geography test, but he cannot seem to remember the continents no matter how hard he tries. Luckily for him, his buddy Syd knows a test taking secret that could save the day – exercise for kids! Syd encourages Dallas to run and jump from page to page to support brain power. She knows that workouts and a healthy lifestyle will help improve Dallas' memory and brain function. With aerobic movement, Dallas starts remembering continents one by one. But will he remember them all in time for his test?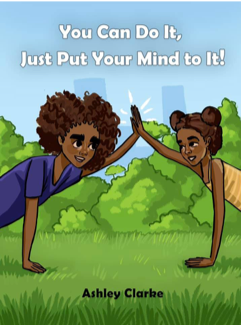 You Can Do It, Just Put Your Mind to It! is published by Parker & Co. Press and is available online at Books-A-Million, Barnes & Noble and Amazon.
Ashley is the daughter of Ervin and Flora Clarke, owners of Urban Views RVA.