---
Getting To Know Your March
ATHLETE OF THE MONTH
By Debora Timms
TALIK BRYANT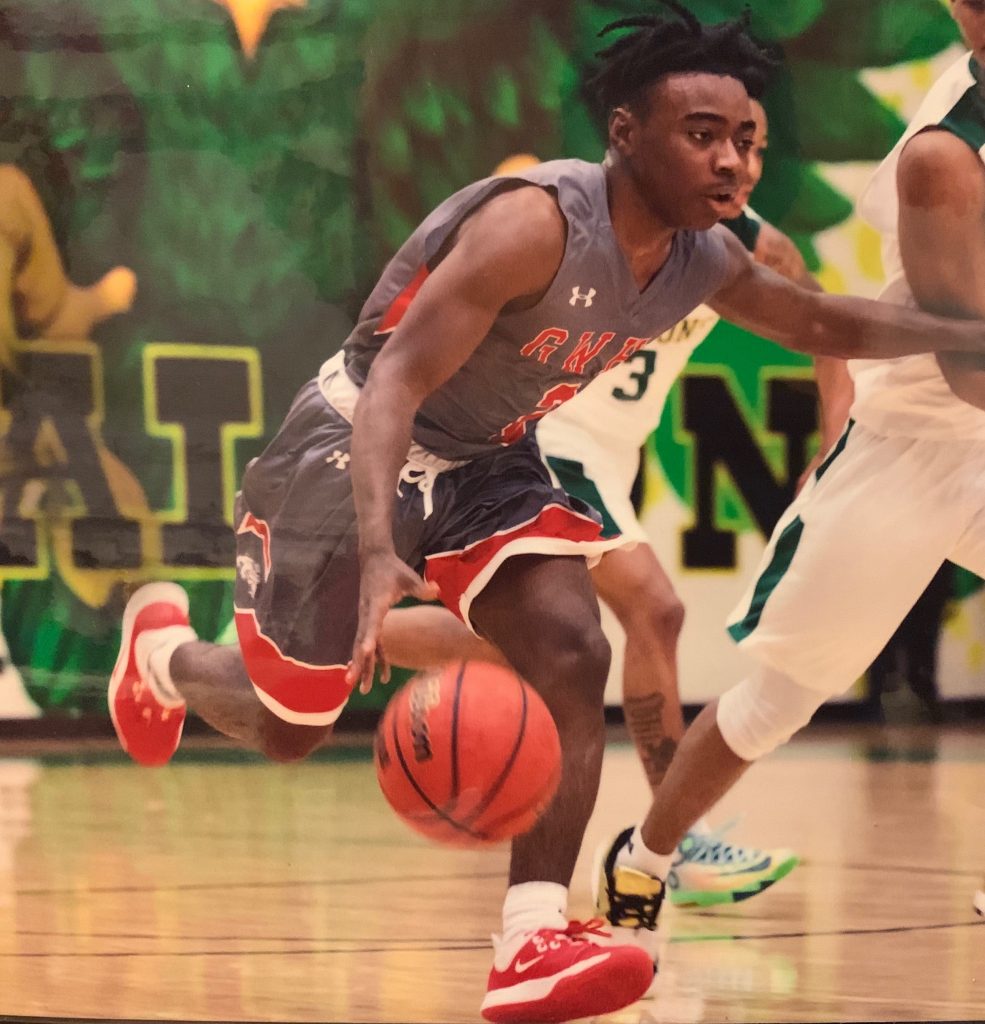 Sport(s):                  Basketball
School:                      George Wythe High School
Class Of:                   2021
GPA:                          3.7
Family:                     Mother – Chifawn Taylor; Father – Tobias Bryant;
Brother – Chimawn Bryant (20)
Hometown:            Richmond
Current City:          Richmond
Favorites
Color                         Red
Book                          The Other Wes Moore
Football Team       Washington Redskins
   Food                          Steak
  School Subject       Math
Scripture                 Psalm 118:6 The Lord is on my side; I will not fear.
What can man do unto me?
  Motto                        Life is 10 percent what happens to you and 90 percent how you react to it
---
You've been playing basketball for three years. What made you decide to start playing?
The competitiveness, the excitement, the adrenalin rush in the game from the first tip off – it just feels good.
What position do you play?
Point Guard.
So the adrenalin and the rush, is that what you like most about playing?
Yes, and my teammates. They're like my brothers.
What do you find is your biggest challenge in the sport?
I get overlooked sometimes, but that motivates me a lot. It helps me out, not just in basketball, but in the real world, too. In life you just need to get in and do things.
Do you plan to attend college?
Yes.
Do you have a particular college in mind?
Yes, VCU (Virginia Commonwealth University) is at the top of my list right now.
What do you plan to study? What are your future career goals?
I'm not sure yet.
Do you intend to play basketball in college?
Yes.
Tell me about some of your sporting or academic achievements.
I am a dual enrollment student at J. Sargeant Reynolds Community College, where I am eligible for Phi Theta Kappa and also made the dean's list.
What has been your proudest moment?
That was my proudest moment, making the dean's list at community college.
What are you most grateful for?
My family. They are my support system. They keep me going and keep me with a positive attitude.
How do you balance your academic life with sports and other interests?
Whenever I'm at home, or as soon as I get done with practice, I try to get as much work done as I can. Even in between class, if I have a free period, I'm trying to get work done. I try to keep my mind on that and be focused in everything that I do.
Can you tell me about community service work that you've done?
One of the main ones that I've done is an awareness walk for breast cancer.
Who or what inspires you?
Somebody who really inspires me is my brother. Every time I hear how much he sees the potential in me, it just makes me want to go harder then. Some days when I wake up knowing that somebody's out there working harder than me, that inspires me to get up and try to be great every day.
What advice would you give others?
Try to outwork the next person and don't be afraid to be great.