Elexia Robinson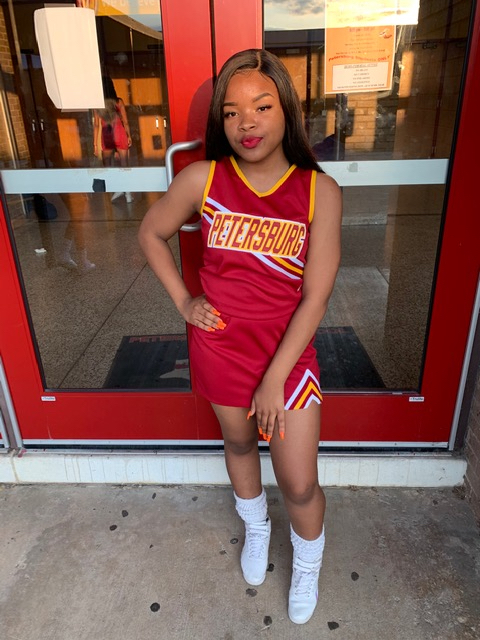 by Amandalyn Vanover
Elexia Malayia Robinson, known as Lexi, is the daughter of Russell Winfield and Tiffanie Robinson, and proud granddaughter of Jean Winfield. She has three brothers; James Jarrett III, Shaikee Robinson, Semaj Winfield and one sister, Shanice Bodrick. She is a Varsity Cheerleader at Petersburg High School and serves as Treasurer of the Athletic Council. When she isn't participating in team sports, she can be found enjoying her other hobbies – doodling and cooking.
Elexia's Stats
Class Of: 2020
GPA: 3.32
Height: 5'4"
Weight: 150 lbs.
Hometown: Petersburg, Virginia
Current City: Petersburg, Virginia
School Mascot: Crimson Wave
Elexia's Athletic Resume
Peabody Middle School Cheer Team: 7th  grade year
Junior Varsity Cheerleader: 10th grade year
Varsity Cheerleading Team: 11th & 12th  grade year
Petersburg High School Marching Band (Majorette Dancer): 9th &10th grade year
Varsity Letter Award (2018-2019) season
Hard Hitter Award (2018-2019) season
Co-Captain of Varsity Cheerleaders (2019-2020) season
Interview with Elexia
Amandalyn: What is your favorite thing about cheering?
Elexia: My favorite thing about cheering is that I can express myself to full potential while also exerting school spirit.
Amandalyn: When did you start cheering?
Elexia: I started cheering in 7th grade.
Amandalyn: How do you define a team to be successful?
Elexia: A successful team to me is a team that is willing to work together, win together, and lose together. Where there are no "I's" being used, just  "We's". Where we all have the same drive and goals for each other and we're only here to build each other up.
Amandalyn: What do you see in your future?
Elexia: I see myself opening my own Doctor's office for Gynecology.
Amandalyn: What motivates you on the daily?
Elexia: My goals, where I see myself in the future, and just making my family proud. It can be a lot of pressure, though.
Amandalyn: What message do you have for the kids who look up to you?
Elexia: I would tell the youth looking up to me to never give up and don't be afraid to stand out because someone is always watching you. Don't be afraid to voice your opinion and take on challenges! Most of all, believe in yourself! I cannot stress that enough. If you don't stand up for yourself nobody will. Never doubt yourself or your capabilities because nothing is too big.  Shoot for the stars and then some because you deserve it all.
Amandalyn: Are there any cheerleading teams who truly inspire you?
Elexia: I love Winston Salem State University's powerhouse cheerleaders and Alabama State University's "Sensational Stingettes:"
Amandalyn: What three schools are you considering attending after you graduate?
Elexia: My top three options right now after I complete my program at Richard Bland College are North Carolina's A & T State University, Norfolk State University, and Hampton University.
Amandalyn: What will you be studying?
Elexia: I plan to major in Pre-Med before I transfer to Medical School.
Amandalyn: What is your ultimate goal?
Elexia: I will venture on to become an OB/GYN.
Amandalyn: What school will get you? In other words, what are you seeking in the school you will attend?
Elexia: What I look for most while choosing a school is the relationship with their students, as in the communication. The degree type they offer, how well their program is, how far away it's located, and the cost.
Amandalyn: Is there a Bible Verse or quote you live by?
Elexia: Yes. Isaiah 41:10 "Fear not, for I am with you; be not dismayed, for I am your God; I will strengthen you, I will help you, I will uphold you with my righteous right hand." I live by that every day we are faced with new obstacles from the last day and we stress ourselves out wondering how this is going to work out or how that is going to work out, but you really just have to take a step back and think, you made it this far, and God wouldn't leave you now.
Elexia's Favorites
Color: periwinkle/ baby blue
Food: I love the Chipotle Chicken Club from Tropical Smoothie & My signature bowl from Chipotle, I can't choose.
Movie: Coco
Football Team: Dallas Cowboys