Teon Harris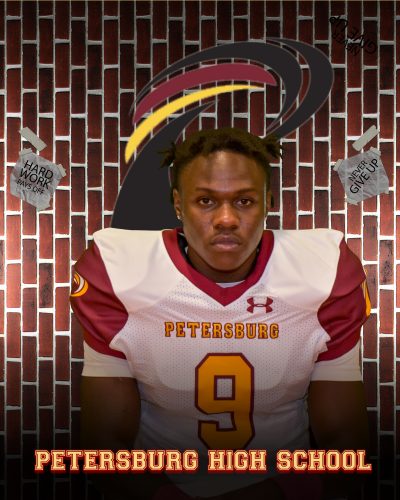 By Amandalyn Vanover
Nickname: Teedywee
Teon Harris is the son of Ebony Dillard and Roy Harris. He has three brothers; Conye, Dwayne, Lamarii and one sister, Ayanna. He plays football and runs track & field at Petersburg High School in Petersburg, Virginia. A junior in high school, this Athlete of the Month has retained Captain status for two years and has 12 years of playing backing him up. He has participated in football since the young age of five. When he isn't at school, practicing or competing, he likes to go hunting and fishing or to get caught up in a game of basketball. He plans on going to LSU. Teon describes himself as quiet and reserved, taking things seriously but likes fun too. Outside of playing for the NFL, he aspires to be a comedian.
Stats
Class of:  2021
GPA: 2.8
Position:  Wide Receiver – Football
Height:  5'9"
Weight:  180 lbs.
Hometown, State:  Petersburg, Va
Mascot:  Crimson Wave
Coach: William Lawson
Interview with Teon
Amandalyn: What are you looking for in the college or university you attend?
Teon: The football program and receiving a quality education.
Amandalyn: What are the most important priorities for you?
Teon:  My team winning.
Amandalyn: What is your favorite quote?
Teon: "Once you quit something, you will always be a quitter."
"This is why I will never quit anything I do."
Amandalyn: What is your favorite thing about playing?
Teon: The competition
Amandalyn: What did you play first?
Teon: Football.
Amandalyn: Any sports you no longer play?
Teon: Basketball
Amandalyn: How do you define a successful team?
Teon: Winning and improving from day one.
Amandalyn: What does winning mean to you?
Teon: It means achieving a goal.
Amandalyn: What do you see in your future?
Teon: Participating in a college program and then moving on to the NFL. I see myself working and supporting my family.
Amandalyn: Do you believe the newly passed California law to pay collegiate student-athletes will impact your decision on where you will play?
Teon: Yes
Amandalyn: What excites you most about your future?
Teon: Possibly progressing into the NFL and helping to move and support my family.
Amandalyn: What would you tell the youth who look up to you?
Teon: I want them to be better than me and excel to a higher level.
Teon Fun Facts
Favorite color: Black
Favorite food: grilled food – ribs
Favorite movie: Caged Animal
Favorite book: Lorax
Favorite Pro-Basketball team: Whichever team Frank Mason – Petersburg Native is on.
Favorite NFL team: Washington Redskins