CHESTER, VA — The Perkinson Center for the Arts & Education is proud to present Black Violin in concert this week on Thursday, Aug. 12.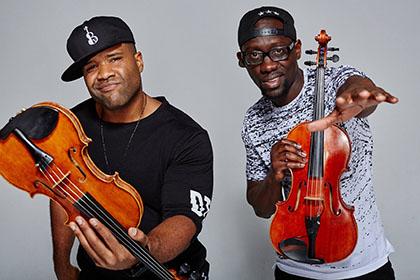 As part of its ongoing "Impossible" tour, Black Violin's one-night-only performance at The Perk brings classically trained string players Wil Baptiste and Kev Marcus to the Jimmy Dean Theater for an empowering night of distinct, uplifting music with a positive social message.
Black Violin's creative genius encourages people of all ages, races, and economic backgrounds to join together, breaking down cultural barriers. Their impactful album Take the Stairs earned a Grammy nomination for Best Contemporary Instrumental Album of 2020. Before the pandemic, Baptiste and Marcus played for more than 100,000 low-income students in urban areas each year. Their mission to challenge stereotypes through high-energy performances has inspired generations across the U.S. and Europe over their 17-year career.
Black Violin's genre-bending sound incorporates the genre they listen to, hip-hop, into the classical world they studied. Their shining talent emerged from a Dillard High School orchestra class, where the two met in Fort Lauderdale. Almost two decades later, they work alongside a youth orchestra mentoring the next generation for greatness and bringing them onstage during performances. Their performances and outreach encourage people of all backgrounds to rethink their preconceived stereotypes about what classical musicians sound and look like.
"The stereotypes are always there, embedded so deep in our culture," says Wil. "Just by the nature of our existence we challenge those ideas. It's a unique thing that brings people together who aren't usually in the same room, and in the current climate, it's good to bring people together."
Tickets for the show are still available to the public. There are also discounts available for students, members of the military, and Virginia state employees by using discount code "perkva" at checkout.