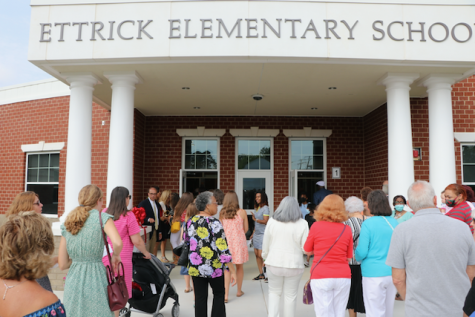 Chesterfield County school and community leaders held a ribbon-cutting ceremony for the new Ettrick Elementary School. The school is located in southern Chesterfield County.  According to the Virginia Department of Education, two-thirds of the school's Fall 2020 -2021 enrollment, 326 of the 492 students, are Black.
Budgeted for $33.76 million, the new Ettrick Elementary was completed on time and under budget.
The county broke ground on the new school in October 2019. With 95,990 square feet and capacity for 750 students, the new building is located on the same 14.5-acre campus as the previous building and will open to students Aug. 23, 2021.
"This is a guaranteed 'Wow!'" said Dr. Merv Daugherty, superintendent of Chesterfield County Public Schools. "Working together, we have accomplished something great for our children and community. Let's never forget that our schools are community buildings."
The Ettrick Elementary project involved demolishing the previous building, which was constructed in 1967, and replacing it with a one-story, brick veneer building. Designed with a core zone (for administration, media center, art, music and cafetorium) and three academic wings for grades K-5, the new Ettrick Elementary is part of the master plan to revitalize the Ettrick area.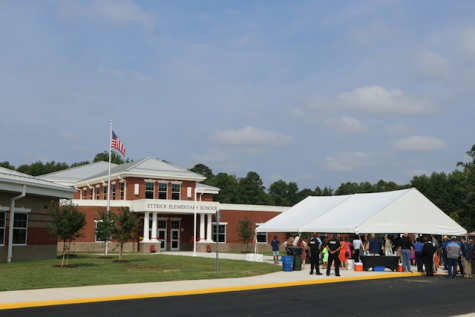 Security features include cameras, motion sensors, card access readers and fencing. Additional features include 75-inch interactive monitors in all classrooms; flexible common space in each wing; dedicated wi-fi throughout the building; LED lighting; water bottle stations; ample storage in each classroom; and touchless lavatories and flush sensors in restrooms.
Site improvements include ornamental piers and fencing along Chesterfield Avenue and Paine Street; a large teacher and staff parking lot with a parent drop-off loop; a separate school bus entrance and drop-off loop; playgrounds; athletic fields; and enhanced stormwater management.