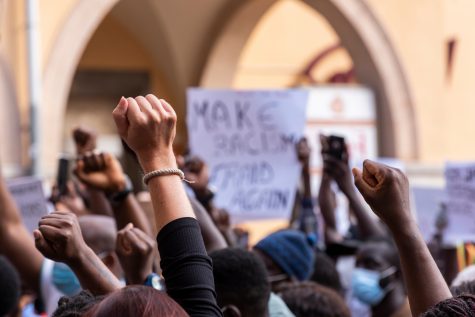 In America, the "law" is not simply applied to its full extent. At least not equally so. This is particularly true when its scope is calculated by white America, and how it is applied to white people who have committed crimes in America. Even crime itself is defined differently when considering who is committing the so-called "crime" or what the word crime even means? 
Those well-worn phrases like "Law and Order" or "the rule of law", or "equal justice under the law" are used as mitigating factors when considering how fully the law is engaged and to whom and under what circumstances it is applied. Because justice is clearly NOT blind, but what is evident, is that certain groups of people in America are far more likely to be designated as law breakers, suspects and probable criminals than other groups of American citizens.  In other words, some types of citizens "fit the description" while other citizens are considered to be exercising their "God given" rights and freedoms of expression. And although they may be over-zealous or passionate in their beliefs and may have gone overboard in some respects, they have, generally, always been law-abiding citizens and patriots who simply love their country. All of this must be taken into consideration when wrestling with the crime, the charges for the crime, and the punishment that is meted out for the commission of said crimes. Of course, there's always an exception in the case where the physical body and complexion of the possible perpetrators are not white and not connected to power or privilege.
Recently, in plain view and in broad daylight, a raucous mob of predominantly white males assaulted law enforcement officers, destroyed property, committed malicious trespass, vandalism, theft, and held the U.S. Congress hostage. Thus, making it impossible for them to fulfill their appointed duty, as law makers, to certify a fair and free election. And on top of all of that, the events of that day were responsible for the deaths of 5 people. How many laws were broken in the process of the siege on the U.S. Capitol? And yet most of these people will never be charged; while others will be under charged; and the large percentage of them will never serve one day in jail or see the inside of a courthouse.
Now, just as an experiment, contrast that with any case where the accused of any one of the offenses listed above was a Black person. What do you think, generally speaking, would be the consequences of any ONE of the above offenses? Today, the prevailing discourse is whether or not to pursue charges on the perpetrators of the "insurrection" and attack on the U.S. Capitol? Whether or not any laws were actually broken? And there are lots of people engaged in the debate as to whether or not America even has any laws on the "books" against "domestic terrorism" at all?
Take the case of Khalid Browder, a Black young man who was held at Rikers Island, without trial for 3 years. He was accused of allegedly stealing a backpack containing valuables. He was held in solitary confinement for 2 years of his incarceration. Did I mention he had NOT had a trial? His trial was delayed due to a back log of cases in the DA's office. Ultimately his case was dismissed because they could not prove the charges against him. Tragically, Khalid Browder committed suicide soon after his release from prison. He suffered from severe depression after the trauma of his incarceration. George Floyd was accused of passing a counterfeit twenty-dollar bill and was killed by law enforcement without charges, trial, judge or jury. Sandra Bland wouldn't put out her cigarette and

incited the wrath of another rogue law enforcement officer, again no trial, judge or jury.
The law itself is selective. The application of the law is even more so. The fact that we are discussing whether or not to prosecute those responsible for the failed coup to overthrow an election and debating whether or not it will just "throw gas on the fire" and exacerbate the situation instead of offering remedy, is absolutely outrageous. When the "LAW" is applied to some with extreme life and death consequence while others can discuss, debate, and negotiate their way out of any consequences whatsoever for their lawlessness, there is NO Justice and there will be No Peace.