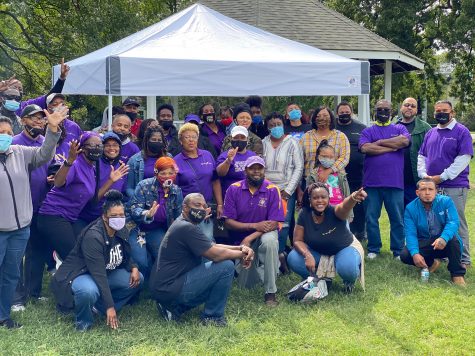 RICHMOND, VA — January 25, 2021 — During a year when vulnerable populations have suffered economic downturns, food insecurities, and anxieties associated with the pandemic, a non-denominational church in Richmond helped weather the storm with their monthly missions — affectionately dubbed, "Operation Thunder."
Under the leadership of senior pastor, Bishop Daniel Robertson, Jr., Mt. Gilead Full Gospel International Ministries spearheaded a community outreach mission, providing aid for those negatively impacted by the pandemic, first responders, and public safety personnel. Pastor Daniel Holmes and Co-Pastor Annette Holmes began organizing the outreach efforts in 2018, but the undertaking picked up speed after seeing the outpouring of need in areas around Richmond.
"This isn't just a handout," says Pastor Daniel Holmes. "Our church and dedicated volunteers are building relationships with the people in these communities. We believe that each meal served is an opportunity to be a light in these dark times."
Partnerships with Food Lion, Cracker Barrel, Richmond Public Schools, and many more allowed the volunteers to give canned foods, hot meals, clothing, furniture, basic necessities, and care packages to local communities every month — oftentimes more. Over the last year, 346 volunteers, young, old, returning, and new would meet at the Holmes' residence to plan and prepare for their Saturday missions.
Mt. Gilead is known for its international volunteer work but wanted to deploy volunteers and resources domestically as well — especially after seeing the far-reaching effects of the pandemic in their community. The church continues to be a blessing, both foreign and domestically, explained Holmes.
In 2020, Mt. Gilead visited mobile home developments in Chesterfield, the communities of Blackstone, areas around Richmond International Airport, downtown Richmond, Petersburg, and many more. They even handed out 976 hot meals while recipients waited in line at the Chesterfield Food Bank.
"We heard about these areas in need from members of our ministry," said Holmes. "This truly is a church-wide effort and I believe Operation Thunder is making a lasting impact in the communities we are blessed to serve."
Last year alone, Operation Thunder served 7,246 meals and distributed 751 care packages. They prayed for 375 individuals and also assisted one family in getting off the streets and securing permanent, fully-furnished housing.
Sharing in the church's mission of training disciples to evangelize the world, these volunteers led 191 people to receive salvation through one-on-one prayer last year.
"Operation Thunder is an example of how our community at Mt. Gilead is blessed to be a blessing," said Holmes.
---