By Bernard Freeman
GET FESTIVE: Boost Your Spirits with Decor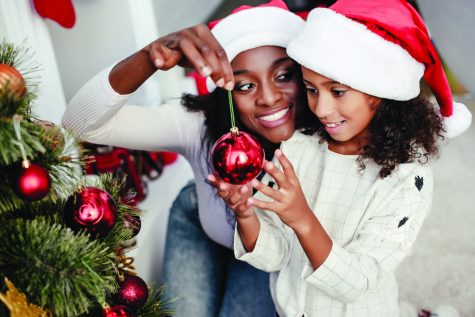 The holidays offer a wonderful opportunity to unleash your creativity and bring joy to others through your decorating skills. And we can sure all use some holiday cheer as 2020 comes to an end.
From the materials you use and the placement of your decorations, designing offers you the chance to make a positive, lasting statement this holiday season.
We've got some tips below — both practical and creative — to help you achieve your decorating dreams this holiday season and keep your spirits up.
Keep it Simple
The secret to the best holiday decorating ideas is simplicity. Modern LED lighting is all the rage this year as families look to doll up the outside of their houses and their trees while also remaining energy efficient. This proves you can be creative and sensible this season.
Some non-lighting ideas for brightening your home this holiday season include homemade ornaments, candle displays and kid-friendly crafts that can serve as wall or window art. Visit your local craft store — either in person or online — for inspiration and ideas.
Festive Floral Arrangements
Flowers are a stunning way to bring new life into your home, especially during the holiday season. Stick to Earth's natural tones and rough woods to pull off a true festive look. From poinsettias to simple pines, you can decorate any type of plant with trinkets or ornaments to achieve the holiday spirit.
Fresh evergreens paired with thick-petaled flowers can help you pull off the perfect bouquet centerpiece for your dining room table this year.
Personalized Christmas Wreaths
Is there anything more welcoming than a beautifully designed wreath hanging from your front door? A homemade wreath is a great way to show off your design skills while also creating a conversation piece for family and friends — even if they can only see it through social media this year.
Items you may need to design your own wreath may include: Floral wire, snips, craft glue, ribbons, branches, pliers, gloves, sprigs, snowberries and holly. Challenge yourself and don't be afraid to get creative on your choice of materials.
If you don't want to design your own wreath, check with your local crafting or floral shops to see if they are offering pick-up or home delivery this year. This would be a great way to support local business while also giving your home some beautiful holiday flair.
MAKING MEMORIES: Ways to Celebrate at Home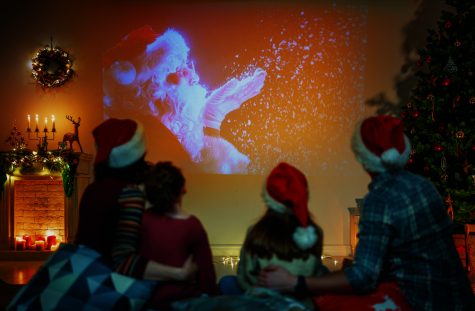 With many of us facing the reality of a homebound holiday this year, there will be opportunities to start new traditions with our immediate families.
Even though this may be different than what we're used to, a positive attitude and creative thinking can make this holiday one to remember.
Read on for a few ideas of how to create a fun, festive holiday.
Holiday Movie Night
Is there anything more enjoyable than binging your favorite holiday movies with a healthy helping of snacks and goodies? Choose a few of the all-time great holiday flicks and plan a movie night with your family.
You can even use the extra time to introduce older, classic movies to your kids. You never know, they may enjoy some of the same movies you grew up watching as a child.
Visit a Christmas Tree Farm
Visits to live Christmas tree farms are on the rise this year as families look for fun, safe activities to do outside of the house. Many of these farms are small businesses run by local families, so by supporting them you're actually helping stimulate the local economy during what has otherwise been a tough year.
Find a festive place near you with drinks or activities to make a fun day of it. Bring your kids along and let them play a part in picking out the tree to make the day extra special.
Keep it Safe
Stay organized with COVID precautions that you can keep top of mind. Factor in extra cleaning supplies and sanitizers when setting your budget for decorations, especially if you plan to safely decorate with friends or family members. If you're hosting a small gathering, make sure to set up hand sanitizer stations at all entrances or exits, in the kitchen and in bathrooms.
GIVE BACK: Don't Forget the Needy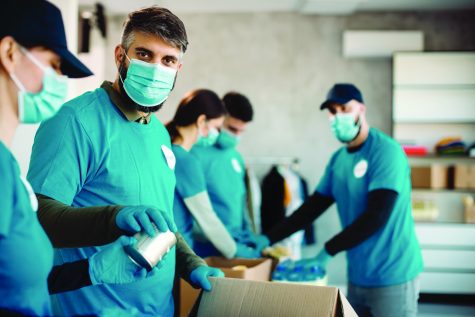 Generosity is needed more than ever this holiday season. This year has been extremely difficult for underprivileged families and the homeless across the world.
If you have some free time or have been fortunate enough to be financially unaffected by the COVID-19 pandemic, there may be an opportunity for you to make a big difference for these populations.
How to Safely Volunteer
Volunteers make a profound difference in the lives of others.
Did you know that volunteering can benefit your own health as well? Research shows that volunteers experience a "helper's high," increased trust in others and enhanced social interaction.
Here are a few common benefits of volunteering, according to The Mayo Clinic:
Decreases the risk of depression, especially for individuals 65 and older.
Gives a sense of purpose and teaches valuable skills.
Helps people stay physically and mentally active.
Enhances a person's social network by helping you meet others and develop new relationships.
Safely Volunteering
Even with COVID-related restrictions on gathering and events, there are many ways to safely volunteer. Here are a few ideas from AmeriCorps:
Volunteer at a food bank that needs help packing and sorting food using safe practices. Visit Feeding America or Food Pantries to find an organization near you.
Deliver meals and groceries to vulnerable seniors.
Check with your local schools to see if they need volunteers to distribute food.
Blood donations have decreased dramatically, so you can help fill the need by contacting your local Red Cross or other blood donation sites.
Make Donations to Your Favorite Cause
Nonprofit organizations have been hit particularly hard by the COVID-19 pandemic.
Without the ability to host annual fundraising events, their budgets and ability to help those in need have lessened dramatically.
You can make a big difference this year by making a financial donation to their cause. Find a reputable organization in your local area to support. Once you decide, challenge your friends and families to join your mission.
You can do so through regular conversations at your holiday gathering, or by starting a campaign on your favorite social media platform.
No matter how you decide to get involved, you can be a light to your community through volunteering or donations for these critical nonprofit organizations.