By Bernard Freeman
STAY SAFE: Avoiding Holiday COVID Risks
The holidays will certainly look a lot different this year with many of us avoiding travel to prevent the risk of contracting or spreading COVID-19.
Restrictions across the country will likely keep many of us from attending the in-person gatherings with our friends and families that we are so used to.
These barriers should not dampen your holiday spirit, however. There are many ways to celebrate while still staying safe.
Read on for tips on gatherings, and do your best to keep your family members and friends safe this holiday season.
Who Should Attend Gatherings?
The Centers for Disease Control and Prevention recommend the following people should not attend in-person holiday gatherings:
People with or exposed to COVID-19.
People with symptoms of COVID-19.
People waiting for COVID-19 viral test results.
People who may have been exposed to someone with COVID-19 in the past 14 days.
People at increased risk of severe illness from COVID-19.
In addition, if you are an older adult or person with certain medical conditions who is at increased risk of severe illness from COVID-19, or live or work with someone at increased risk of severe illness, the CDC recommends that you avoid in-person gatherings with people who do not live in your household.
Questions to Consider
Before planning your small gathering this holiday season, here are some questions to consider from the Nuvance Health system based in Connecticut:
Will the event be held indoors or outdoors?
How many people will be at the event?
Will participants be willing/able to wear masks?
Will participants be willing/able to practice social distancing?
Will participants be willing/able to practice proper hand hygiene?
Will the visit be brief or prolonged?
Will the event include shared food or beverages?
Will alcohol be served at the event?
Will participants be traveling to or from areas that are experiencing high COVID-19 infection rates?
Will the event follow public health guidelines for gathering size limits?
What are your personal, family and community risk factors?
Keep in mind that older adults and people who have certain health conditions — including lung disease, heart disease, diabetes or a weakened immune system — are at a higher risk of becoming seriously ill and experiencing COVID-19 complications.
Always take the appropriate steps to stay safe, and to keep your family safe this season.
CONNECT WITH LOVED ONES: Host a Virtual Celebration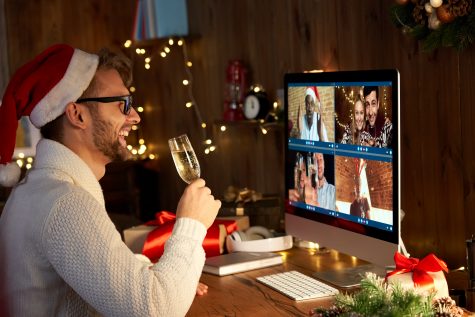 Technology has made it possible for us to still connect with families during difficult lockdowns and quarantines. Choose from a variety of online platforms to build a virtual forum, send invitations and plan fun activities.
The last thing you need in 2020 is more stress, so enlist the help of a family member or friend if you're not familiar with these types of online programs.
How to Throw a Virtual Party
Virtual holiday parties require the same amount of planning as in-person holidays. Taking the time to incorporate special details will make your guests appreciate the party even more.
Here are some essentials:
A strong internet connection.
An easy-to-use software platform.
Plenty of notice for your guests.
A holiday theme.
A couple of fun group activities.
Whether you're planning a party for your family, friends or office, remember to keep things light and enjoyable. The last thing you want to do when hosting a virtual party is to make your guests feel like they are wasting their time.
Don't Forget the Details
Remember that many of your friends and family may be suffering from video conference fatigue due to the increased number of online calls their jobs may have required in 2020.
Be flexible with guests joining and leaving when they can, especially given their extra responsibilities juggling work, kids, school and chores around the house these days.
If you have a theme in mind, be sure to share it with your guests ahead of time so they can buy any materials, food, drinks or outfits that you recommend. Picture planning a virtual wine and cheese tasting but forgetting to tell your guests to buy wine and cheese! If you're throwing the party, it's your responsibility to make sure these details aren't missed.
Sending supplies to your virtual guests in advance is an easy way to get everyone excited and prepared for the party, so make sure you budget for any extra costs you may have to incur or ask guests to chip in.
Follow these tips and you'll be on your way to throwing a perfect virtual holiday party this year.
OUT AND ABOUT: Traveling for the Holidays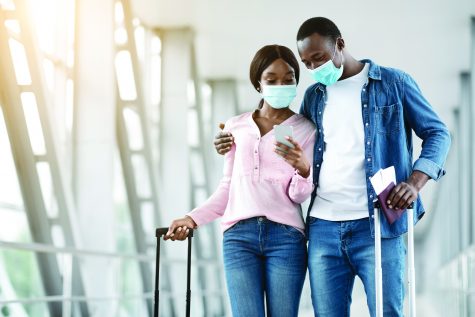 Even as restrictions continue to tighten across the country, there are still some areas allowing for travel this holiday season.
Experts warn that travel increases your chance of getting and spreading COVID-19. The Centers for Disease Control and Prevention recommend staying home as the best way to protect yourself and others from COVID-19.
As you consider traveling for the holidays, it's important that you research the current amount of active cases at your destination. The higher the number, the more likely you are to get infected during travel and spread the virus to others when you return.
The CDC recommends that you avoid travel if you are sick or if you have been around someone with COVID-19 in the past 14 days. They also suggest against traveling with someone who is sick.
Anyone can get very ill from the virus that causes COVID-19, but older adults and people with certain underlying medical conditions are at increased risk for severe illness from COVID-19. That's why it's important to recognize and fully understand the possible impact on others before you decide to travel.
Check Travel Restrictions
According to the CDC, some state, local and territorial governments have requirements, such as requiring people to wear masks and requiring those who recently traveled to stay home for up to 14 days. Check with these organizations in your area for this information before you travel.
If you are traveling internationally, the CDC recommends you check the destination's Office of Foreign Affairs or Ministry of Health or the U.S. Department of State, Bureau of Consular Affairs, Country Information, for details about entry requirements and restrictions for arriving travelers, such as mandatory testing or quarantine.
Safety Tips
If you decide to travel, follow these CDC safety measures during your trip to protect yourself and others from contracting the COVID-19 virus.
Wear a mask in public settings, like on public and mass transportation, at events and gatherings, and anywhere you will be around people outside of your household.
Avoid close contact by staying at least 6 feet apart from anyone who is not from your household.
Wash your hands often with soap and water for at least 20 seconds or use hand sanitizer (with at least 60% alcohol).
Avoid contact with anyone who is sick.
Avoid touching your face mask, eyes, nose, and mouth.