Contributed by Curl House Salon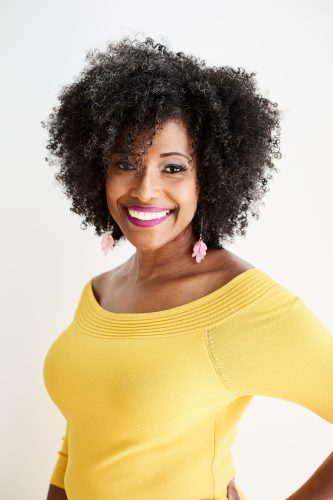 RICHMOND, VA – While many small business owners around Virginia are struggling amidst the continued spread of the coronavirus, licensed Cosmetologist, Certified Trichologist and Owner of Curl House Hair Salon, Karen Flowers, is taking advantage of the time in lockdown to work on the signature product of her Curl House Collection Product Line called the Curl House Follicle Stimulating Hair Drops. This product is a unique blend of 14 botanicals (it's so natural you can eat each ingredient) that are specifically designed to maximize hair growth, heal and soothe an inflamed scalp, increase blood circulation for nutrient intake and help women grow back thicker, longer, and fuller hair.
"While I was in the middle of developing the Curl House Collection, when the virus placed us on lockdown, I had more time to specifically focus on perfecting our signature product and finish developing it earlier," says Flowers, who was initially going to launch her new product line end of summer.
When Karen left her full-time career in Psychology at VCU to become a natural hairstylist ten years ago, she had noticed her hair was thinning but attributed it to the years of getting relaxers. So, when she did a 'big chop,' stopped getting relaxers and started to wear her natural hair, she thought she'd stop losing hair. But as she continued to service more and more natural clients, she noticed them thinning too. She decided to go back to school and become a Certified Trichologist (scalp & hair loss specialist) and continued her studies to become a Holistic Hair Practitioner, so that she could restore her client's hair using a holistic, non-medication approach.
"Going back to school and becoming a Certified Trichologist, I learned that healthy hair is so much more than just having your hair free of chemicals and keeping your hair hydrated. I learned about the importance of reducing inflammation in the scalp, which ultimately reduces hair thinning and enhances hair growth. As stated in our product line's tagline, "Healthy Hair Comes From a Healthy Scalp," says Flowers.
Karen will be letting clients know about her signature Curl House Follicle Stimulating Growth Drops on Tues, May 5th at 7:00 pm, while going FB Live on the Curl House Facebook page during her weekly On The Couch w/. Curl House. There, she will once again cut off her long, locked coifs, and demonstrate firsthand how the product works and the multiple benefits of the product and treating the scalp.
Karen is also inviting local women who may be experiencing thinning hair, and those who may want more length and/or for fullness, to join her in a 7-Day Healthy Scalp, Healthy Hair Challenge where she will teach women how, in addition to using the Follicle Stimulating Growth Drops, being healthy leads to optimal length and fullness genetically possible for each woman.
For more information on the Curl House Follicle Stimulating Growth Drops or Karen's 7-Day Healthy Scalp, Healthy Hair Challenge, please email info@curlhouse.com or visit the www.curlhouse.com.