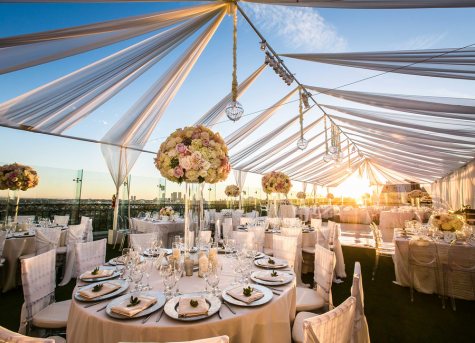 If you're planning a big party that stretches your time or abilities, it's time to visit your local party rental company.
Whether you're planning a shindig for dozens of guests or a happy afternoon for neighborhood kids, a party rental business can be a big help in making your event a success. They can provide everything from seating and tents to cutlery and entertainment assets. For kids' parties, they're also an excellent place to inquire about inflatable bounce houses and other fun activities for rent.
Whatever your need, you'll want to pick a rental business with a devotion to excellent customer service. After all, you don't need to add the stress of dealing with spotty service to the many things on your party planning list.
Here's what to look for in a good party rental outfit.
Selection and Quality
Not all rental companies are equal, and the most obvious way you can tell the difference is by the products they provide — both in quantities to pick from and the quality of their offerings.
Some rental companies place their emphasis on one particular type of event, such as weddings, children's birthday parties or corporate retreats. You can see this from the supplies they offer for rent and how many different styles you have to pick from.
A wide selection is important, especially if you're trying to use a very specific color scheme or decorating theme and need lots of options at your disposal. The more choices you've got, the more likely you'll be able to turn your dream party into reality.
But like any service, you typically get what you pay for in party rentals. You need to know precisely what kind of quality to expect so your event will end up looking chic, not cheap.
Advice and Expertise
Another thing to consider is how experienced the company's owner and staff are in the event planning industry.
Seasoned professionals are typically better than newcomers because they can think of potential questions to ask and problems you might have before you've even thought of them. They've been around the block, so to speak.
The best rental companies will have the personnel with the kind of background that will help you plan and execute the perfect party. They'll listen closely to your needs and find ways to make your event run as smoothly and stress-free as possible.
Professionalism
Unfortunately, not all party rental companies are run by true professionals. The best ones, though, make their quality obvious by the level of service they provide.
Because planning a party involves lots of communication, coordination and detail work, you need to find a rental company that responds quickly and professionally to your requests.
Does a real person answer the phones? If you leave a voicemail, do they respond promptly? Do they reply to your e-mails quickly and clearly? All these things can help point you in the right direction so you'll know what to expect when you work with them to plan your event.
Another sign of professionalism is that they've thought through your insurance needs. Party rental equipment can be expensive, and you can be on the hook for any damage your guests do to the rental merchandise, for example. A good rental company will be able to walk you through insurance options to protect yourself, your vendors and your venue from potential problems.
Reputation
Fortunately, there's another easy way to find the best party rental companies. They'll have a good reputation in your community.
Good rental companies will be able to provide you some references so you can look into their track record. If your friends, family members or coworkers have used a certain company in the past, though, first-person references are the most reliable way to know what you can expect.
Because different party vendors often work together in a local area, from caterers to event planners and others, you should also look for a rental company that has a reputation for being easy to work with. The best events come together with a team of great vendors working together to throw a fantastic party. If you're working with other vendors for your party, ask which rental company they recommend you work with in your area.
Payment Policies
Finally, make sure you know the party rental company's policies for when and how they expect payment, including what happens if your event gets rescheduled or cancelled. Most companies will require a deposit up front and full payment at the time of the event, with only a partial refund possible depending on how early you give them notice of cancellation. Make sure you've not only got a clear, written agreement, but also that you fully understand what the expectations are on both sides.
With careful shopping, you can find a rental company that will be easy to work with and have exactly what you need to throw an amazing party.