By Amandalyn Vanover
As March is Women's History Month, I've been on the lookout for local women making history in today's world. I've been looking for women who make a difference in the lives of others. After seeing the brilliantly painted murals throughout Richmond depicting women, I knew I had to find out more about the artist behind the paintbrush.
I'd like to introduce you to Emily Herr, a woman who is truly making history and is in fact, leaving history across the public wall spaces of the city.
Emily is a Richmond native artist and muralist claiming public visual space for colorful, thoughtful, positive, and realistic portrayals of girls and women. What began as a single mural with the words Girls!Girls!Girls! painted over the images celebrating a group of females has exploded into a nationwide traveling art phenomena of "Herr" Girls!Girls!Girls! murals.
Herr Girls!Girls!Girls! Murals
Driven with a passion to paint the female race in a normal, human, and realistic light; she captures their essence with every stroke of the brush. She does this to be different. She does this because she is painting from her own voice, not that of a client (as she typically does commissioned work for people).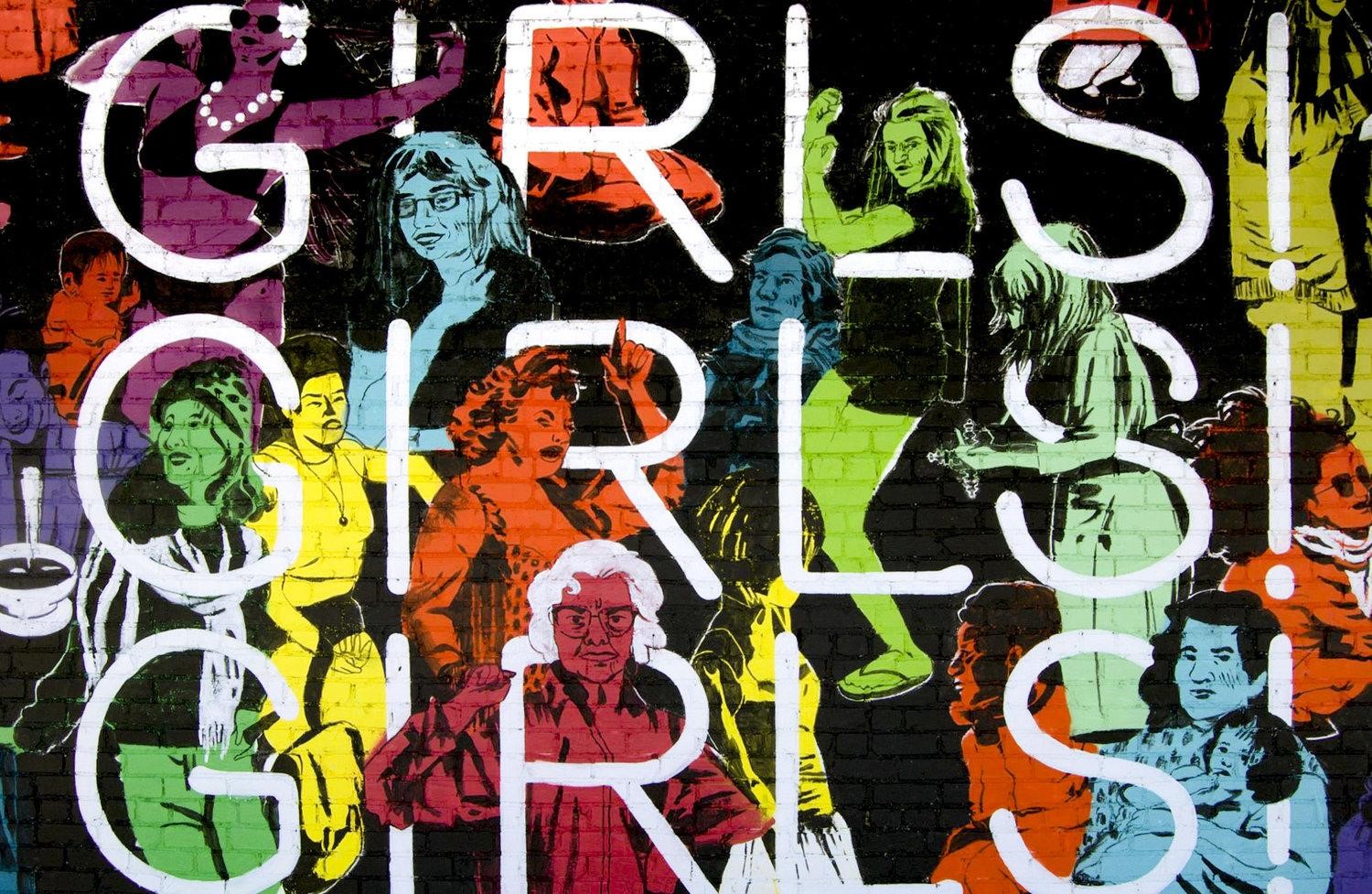 Photo credit Mara Beaton
Her own voice is screaming from the murals in loud shouts, "Women are human! Women are real! Women are not objects meant to please this person or that industry! Women CAN and SHOULD speak up, take up space, and live their lives! Women are complex beings."
She strives to make the Girls!Girls!Girls! series of murals different.
Different how?
Different than the normal visualizations "objectifying" females that are commonplace in the art of women portrayed in ads and across the media.
            "I want to normalize and celebrate images of women in a broad spectrum of bodies and lifestyles. I also want to reduce the general female shame in simply taking up space."

-Emily Herr
It all started in 2017 on a garage in Richmond where Herr painted the first Girls!Girls!Girls! mural of the series. The life-size representation of numerous girls and women involved in a number of positive activities and lifestyle events drew the attention of sight-seers from all over.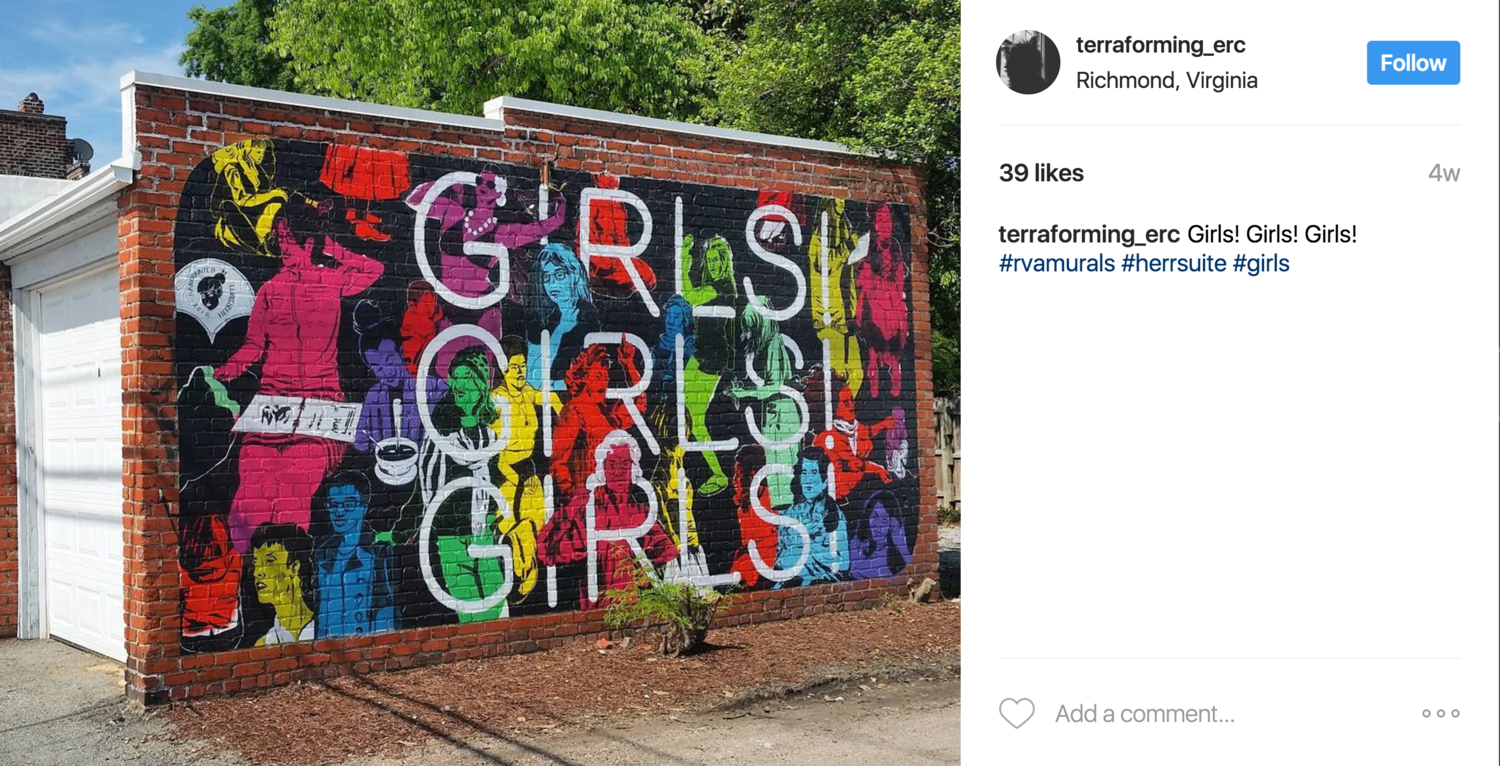 Photo credit to terraforming_erc via Instagram
The flood of positive responses and appreciation that came in from people about the first mural inspired Herr to take her artistic ability and positive message to the road. In July 2017, Herr took her mobile-studio up the East Coast for the Girls!Girls!Girls! Tour of Richmond and beyond, leaving an optimistic and positive celebration of women in her trail.
The Mobile-Studio Road Trip
The G!G!G! murals are found across Richmond, VA, in Philadelphia, PA, Brooklyn, NY, and in more towns on the East Coast as she made her way to Burlington, VT.
It was in Burlington where she painted the second iteration of the first Girls!Girls!Girls! mural. It is found on a thrift shop called Battery Street Jeans, where they cater to diverse body types and all genders. Herr used local women (to each area) for each and every mural of the series.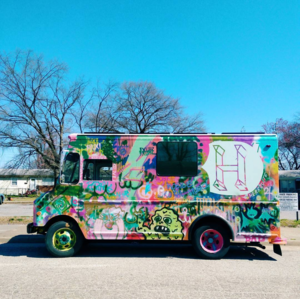 During her travels to Vermont in the mobile studio, she stopped in Berryville to paint a friend's tiny house built for one human woman… who would permanently park the tiny house in DC and call it home.
"Painting in a tiny house is a huge thrill for me – they are the inspiration for the mobile studio and represent conscious living and personal empowerment."

– Emily Herr
With over 12 G!G!G! murals across RVA, Herr is making herself a household name here for her larger than life fantastic representations depicting real, human women and girls.
What makes Emily special?
Many will enter, all will win.
Herr solicits images from girls and women with a special goal in mind: to draw every submission. This lofty goal uncovers the heart of an artist who imagines living in a world where females are no longer portrayed in simple images that basically flatten and demean their being, but instead are represented and depicted in the complexity of who they really are as women.
Submissions Must be of Human Women
The first rule she has for anyone wanting to submit an entry is to think of a 'human lady-person.' Then you are to take a photo of such human lady while she is in the act of doing her normal thing and explain in words to Emily all the reasons she is so incredibly awesome!
Emily is excited to see her message spread. She gives priority to underrepresented female lifestyles and bodies.
All submissions of girls can be sent to Emily Herr via email at emily@herrsuite.com, by tagging @girlsgirlsgirlstour on Instagram, or through an Instagram DM.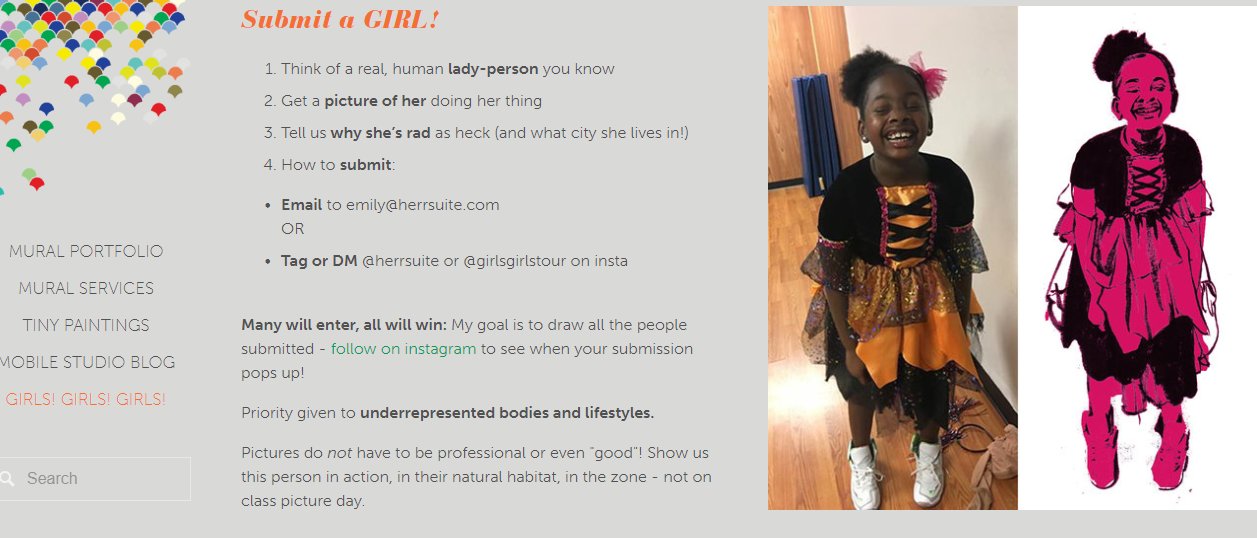 Image directly from: www.herrsuite.com/girlsgirlsgirls
A Portfolio of Murals
Herr's portfolio displays more than 50 murals of varying themes and styles. Take the time to visit Herr Suite to check them all out. While Herr's phenomena of the Girls!Girls!Girls! murals continues to grow, the show of talent doesn't stop there.
She also does tiny paintings.
Life Inspired Tiny Paintings
The tiny paintings Emily paints are dynamic and breath-taking! They are all around size 4'x6' and are inspired from Herr's own life and photography. Visit her website to see her tiny paintings, order an original, or to buy a print.
Herr's work has earned her several sponsorships from local businesses, including some specifically supporting the G!G!G! Tour.
How to Show Support
As Emily's murals gain momentum, she continues to paint them on public walls across the city of Richmond and beyond. She asks visitors to help support the project painting mural monuments of local, everyday women by donating money or buying prints and digital files. Visit her site www.herrsuite.com for more information.