By Suyapa Marquez, Senior Community Affairs Representative, Dominion Energy
It's tree time again with Dominion Energy's Project Plant It!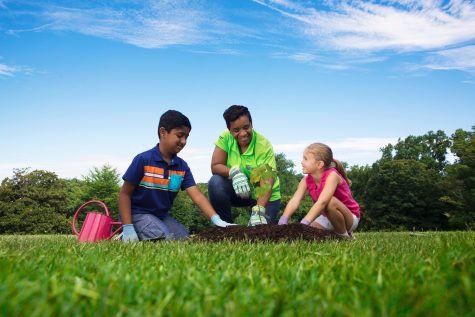 For the 12th consecutive observance, Project Plant It! celebrates spring by teaching children about the role of trees in the ecosystem and giving them a free redbud seedling to plant for Arbor Day. The program will distribute 60,000 redbud tree seedlings in 2018, a 20 percent increase over the amount in 2017, in the states served by Dominion Energy.
The award-winning environmental education program, which was established in 2007, is available for children of all ages and grade levels, including those in schools, scout troops, civic and church groups, preschools, environmental clubs, home-schools and other entities that work with youth.
"Project Plant It! is one of the many ways Dominion Energy supports education and invests in local communities," said Hunter A. Applewhite, President of the Dominion Energy Charitable Foundation, the charitable arm of Dominion Energy. "When it's time to celebrate Arbor Day on April 27, 2018, Dominion Energy will have distributed 500,000 tree seedlings to participants since 2007 – an exciting milestone. This innovative tree-planting program for children aligns with our mission to promote environmental stewardship in a fun, meaningful and memorable way."
The redbud tree seedlings are grown at the Arbor Day Foundation's farm in Nebraska. Prior to Arbor Day, the seedlings are packaged and shipped to the participants. Instructions for indoor/outdoor planting are included in the packaging.
Teaching about Trees
Educators appreciate the STEM-based lesson plans and instructional tools that can be downloaded at no charge from the program's website, projectplantit.com. This year, to further engage children about the many benefits that trees provide to the environment, a NEW lesson plan about conservation of natural resources has been added to the Educator's Guide on the website.
This custom-designed manual now includes 12 lesson plans that support third-grade learning standards for math, science, language arts and social studies. All of the lesson plans can be adapted easily to grade levels from preschool through high school.
Students in Richmond Public Schools have been invited to participate in Project Plant It! since it launched a pilot program in 2007 in Richmond City, Henrico County and Chesterfield County.
"Our school system supports this program because the lesson plans include many educational activities that develop 21st century skills such as teamwork, collaborative research and critical thinking about real-world issues," said Helena Easter, Science Instructional Specialist for Richmond Public Schools.
"Students who are enrolled in the program love getting their own redbud tree to plant at home, which helps them make a personal connection with the environment," commented Mrs. Easter. "Project Plant It! is a great addition to any educator's spring curriculum."
Along with the Educator's Guide, the website features interactive games and educational videos about trees, along with a variety of outdoor activities that families can enjoy together.
According to the Virginia Department of Forestry, the half-million tree seedlings distributed from 2007-2018 equate to about 1,250 acres of new forest if all of the seedlings are planted and grow to maturity.
For more information about Project Plant It!, visit projectplantit.com and "Like" it on Facebook.