Where Minority College Students Meet Their Future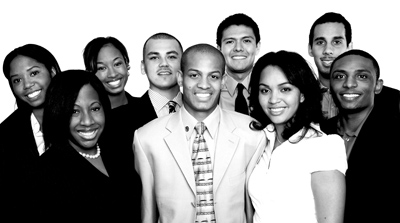 To ensure that minorities would be equitably trained for and represented in corporate careers, the late Frank C. Carr gave his up. It was 1970, and like many, the Chicago executive had been mobilized by King's stirring "I Have a Dream" speech. He had an idea how African Americans, Hispanics, and Native Americans could work toward their own dreams, and to work on it full-time, he left his position. He kept his corporate contacts, however, and in the first year, he placed 25 students with 17 corporate employers.
Today InRoads Inc. works with nearly 5000 students in long term internships that very often lead to full time careers. Their Mission: "To develop and place talented minority youth in business and industry and prepare them for corporate and community leadership." Estella W. Randolph, Client Manager for the Mid-Atlantic region, is the area's InRoads Representative. Randolph recruits and matches talent to corporate sponsors, and coordinates Intern training in Hampton Roads and Richmond. In addition to their widely–respected Internship Program, InRoads has a Retail Management Program. Apply at www.InRoads.org.
What makes InRoads so unique among internship programs?
One of the things that distinguishes InRoads from other internship programs or internships that students might acquire on their own, is our training and development component. Throughout the summer when the student is working with their corporate sponsor, they're receiving training from the company. But InRoads provides training as well. In addition to working full time, the students participate in Saturday training sessions that focus on a variety of competencies; business sophistication, ethics, on the job communication skills. So while they're receiving work experience, they also have the opportunity to participate in those development activities as well.
What fields are particularly in demand?
We don't really recruit a lot of Liberal Arts students. There's a huge percentage of engineering majors in all disciplines, as well as technology majors, computer science, IT. Then [we place many students in] any of the Business disciplines; Marketing, Finance, Accounting, Business Administration. We recruit quite heavily and have extensive opportunities for students who are pursuing those degrees.
What are some area corporations where you place students?
Some of our partners include accounting firms, Ernst & Young, Owens & Minor, SunTrust, Wachovia, Northrop Grumman.
How does an internship bolster a young person's resume or skill set?
It does a couple of things for the student. One of the major things is it provides an opportunity for that student to get work experience that is related not only to the degree they're pursuing, but for the career path in which they're interested. So it provides career-related work experience. It also provides the opportunity for personal and professional training development.
How does this benefit the companies who come to you seeking interns?
The biggest benefit is to have access to a potential pool of clients. Through InRoads, the company can really begin to develop a pipeline for potential employees. What it does in the long term is by having that pipeline, they can hire those students who graduate from college. If a company has had an intern for two to three summers, which is the average time, and then if a company leverages that summer experience and offers the student a full time position, then they have the benefit of hiring someone directly from college, who has six to nine months experience already. So the student has an opportunity to come in ready to work. So the learning curve, the training curve is shortened by hiring an InRoads intern who has worked for them.
What can a student reading this do to prepare herself to be accepted into the InRoads program?
High school seniors are eligible to apply. However the internship opportunities for seniors are very limited. I typically encourage students to apply in their freshman year of college. We are a long term process, meaning we are not a summer job program. Students have to commit two summers and have to be eligible to participate two summers. They can only apply through their sophomore year in college, or their junior year if they're in a five-year program. The minimum GPA for application to InRoads is 2.8. Many of our corporate partners require a higher GPA for the internship process and in fact, the majority of our students have GPA's in excess of a 2.8. But in order to secure an internship they would have to have a GPA of a minimum of 2.8. The focus is on a minority population but any student can apply.
Are there evaluations during the internship?
Yes. That's why we don't call ourselves a summer job program. Before the student shows up for the first day of work, the company has created a development plan for them and they've set goals and objectives and then there are two evaluations during the summer. The students have to receive satisfactory or higher on those evaluations. There's also a community service component as well. The students are required to complete a minimum of twelve hours of community service during the summer.
Does this experience provide a student with a competitive edge in a tough market?
Most definitely. Nationwide, in a given summer, InRoads works with [approximately 400] companies across the country. With many of them, we have strong partnerships with, and they look to InRoads to provide them with a diverse pool of candidates. We hear oftentimes from company representatives, that as they're receiving resumes from the Internet or a career fair, when they see a resume for a student who was an InRoads intern, it's a flag for them because they know about the training and the experiences and the opportunities that InRoads interns have.
How do you measure success at InRoads?
With the students, the ultimate success is the student receiving an offer from the company they served their internship with. That is an expectation that we have and it's an expectation that the companies have as well. It's a two to three year process so we can't guarantee anything on either side. But it is an expectation. On average, nationally, we have probably about an 85% acceptance rate [by students], and a 75% offer rate [by companies].
by Cesca Janece Waterfield