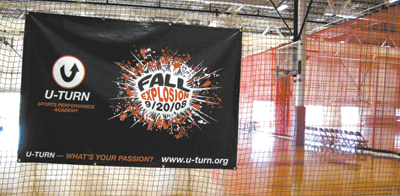 On Sep. 20, there's going to be a Fall Explosion in Richmond. Wondering where to turn? Head straight into the blast. This day-long Explosion is hosted by U-Turn, Inc., and is their biggest event of the year; a fun event for families and youth filled with games, giveaways, prizes, special guests, sports training clinics, demos, and food. It's all cost-free and takes place in U-Turn's world-class sports facility on Maywill St.
As every athlete knows, practice makes perfect. U-Turn has had plenty of it. For more than twelve years, they have provided youth with sports training and fellowship at no cost. Through the structured and fun U-Turn program, children and teens ages 6 to 18 get more than relationships with their coach and fellow athletes; they are encouraged to get to know Jesus Christ. The U-Turn Mission is simple: "To help maximize young people's lives by providing superior athletic training and sound biblical guidance." Toward that goal, youth get training from beginner level to elite performance in basketball, football, soccer, tennis, volleyball, strength training. U-Turn asks youth, "What's your passion?" and then helps them hone their skills as they draw closer to God and further from dangerous decisions. While their facilities are first-rate, from the 9000 square foot weight room to the sunlit atrium that hosts special events, the first door you'll see after entering U-Turn's colorful facilities is prominently labeled, "Chapel."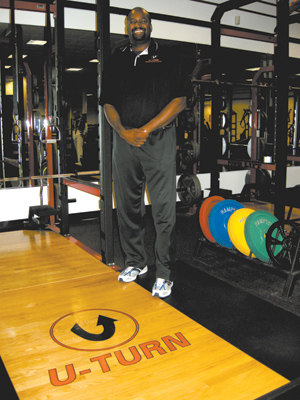 Herb Delaney is Director of Community Relations, and says, "Fall is about change. U-Turn is about change. If you're heading in the wrong direction, with U-Turn, you can head in the right direction with Christ as your leader."
U-Turn began in prayer. Nearly 17 years ago, Richmond native Paul Manning learned that one of his childhood friends was dead, killed by two other classmates. He had recently attended a Christian Conference in Atlanta, where he'd come away inspired. Now he wondered and prayed about a way he could address violence among urban youth. A graduate of Virginia Tech, an engineer, and a tennis champion who'd won several titles, Paul began an informal tennis ministry with youth, training athletes about three times a week, assisted by his corporate employer. It wasn't long before the participants were winning state and regional championships — and college scholarships. Their success drew attention, and they were invited to base themselves at Westover Hills Tennis Courts. The number and demographic of participants began to broaden as its athletes continued to win tournaments.
U-Turn became an official non-profit organization in the spring of 1996. The U-Turn facility opened in June 1998, with 22 kids. Today it boasts 150,000 square feet that house four new hardwood basketball courts, an indoor tennis court, volleyball court, an indoor football field, weight room, parent's fitness center, sprint lanes, indoor turf for football and lacrosse, a full-service café, game room, WiFi with Apple and PC computers, and more.
Although U-Turn trains athletes who represent the city's wealthier residents, they make their programs and facilities available to youth regardless of their ability to pay. "We are in the mode of raising money for scholarships," Delaney says. "If you feel like you can't afford it, yes you can. We want to be able to spread the gospel through sports."
Every participant is encouraged to excel in his sport, and training is provided by outstanding athletes, all of whom have played at college level, and even professionally. But Delaney emphasizes that U-Turn's goals go farther: "This is a place where we change lives. We want to give these kids skills for after the cheering stops."

The staff's commitment to and appreciation of youth is evident. "There's so much in the world contrary to doing right," Delaney says. "The media, everybody's quick to show how they're doing wrong. How many kids are out here doing right? Volunteering, making grades." Kids nurtured in these conditions by people who genuinely care is a resource no one should treat lightly. The goals and efforts of U-Turn are those the Richmond-area has great interest in seeing thrive. Delaney emphasizes the community's role, the importance of contributions, and U-Turn's gratitude.
"A lot of the community has really rallied around us. They've actually pitched in from a monetary standpoint, volunteering. We're partnering with people who really want to help kids. It's not just about sports. It's about helping kids."
Fall Explosion, Sep. 20, Doors open at 9 a.m. U-Turn, 2101 Maywill St. Info 358-2775 www.U-Turn.org
Help Fund U-Turn Scholarships
Amazing Christian Comedy with Jason Earls and Susan Burchett, with special performances by Poetry in the Light and Laura Ann Singh. Sep. 20, The Marquee, 3015 Cutshaw Ave. Richmond, 6 p.m. to 10 p.m. $30 or $120 for a table for 5. Cost includes food and non-alcoholic beverages. Proceeds will go to U-Turn's General Scholarship Fund.