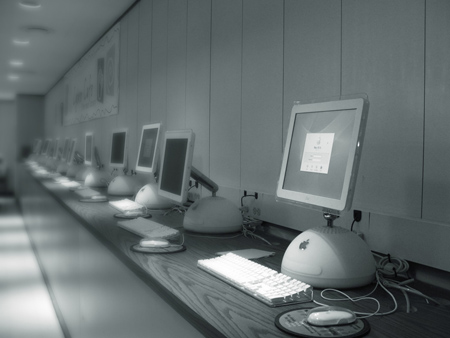 by Cesca Janece Waterfield
 
According to research by the National Center for Missing & Exploited Children, one in five children is sexually solicited over the Internet. Today's children and teens are smooth and savvy users of technology, while often remaining unaware of some of its dangers. Parents can feel overwhelmed trying to keep them safe. But when you understand the possible risks of Internet use and how to combat them, providing a safe experience for your family is a matter of a few basic steps.
Web Safety from Your TV
From now through August 31, check out "Internet Safety," an educational video produced by Comcast. The area's largest cable provider partnered with the Attorney General's Youth Internet Safety Task Force to promote safe Internet use. Designed to empower parents to help keep their children safer from online predators, "Internet Safety" is available free at any time to subscribers and directions are below. It was premiered last week, when Virginia Attorney General spoke to a Richmond Boys & Girls Club about the importance of safer Internet use.
To view "Internet Safety," Comcast subscribers should turn to Channel 1 on their digital cable lineup, and then open the "On Demand" feature. Choose "Get Local," and then "Comcast Cares." "Internet Safety" is available now through Sunday, Aug. 31.
Some Tech Dangers
Internet environments can introduce youth to dangers, if they aren't informed and if parents aren't involved. For unsuspecting users, however, there are other serious concerns as well.
Cell phones
– Using a cell phone can put users at risks not unlike those presented by e-mail or instant messaging. Predators, cyber-bullies, and spammers increasingly use cell phones for scams. Fortunately, remembering and using the same safety rules can go a long way toward security.
Email from strangers
– Children need to be taught that the Internet is a way to maintain friendships with people they know, it is not the place to meet new friends. The rule they learn in the "real world" – "Don't talk to strangers" – also applies online. A Website may not be what it seems to be. Predators, bullies, and hackers can set up their own sites.
Downloads
– Be especially cautious when downloading anything from a Website. Often what seem to be standard program permissions are actually ploys. Requests to download a "plug-in" to access special content are often tricks to invade your computer with advertising. Sometimes these "plug-ins" track you online.
Trading personal information for special content
– Many schools and youth organizations have their own Websites that require inputting personal information to access special content. They often feature public spaces where users can upload their opinions and thoughts. Certainly many are safe, but many others are dangerous.
Steps to Safety
There are a few basic steps parents can take that will help make their children safer Internet users.
"POS" is a chat phrase meaning, "parent over shoulder."
 Check your child's Internet activity. Know when they go online and where.
Get and stay current with technology.
 Basic education about technology is inexpensive and often free. Learn about new products and trends.
Talk to your children about the dangers of unsafe Internet use.
When you don't understand something they're doing online, or any of their lingo, don't be afraid to ask. It will show that you care.
Tell your children to never, ever meet anyone in the "real world" they met online.
Reinforce to them that if anyone ever asks them to meet, that they should talk to you first.
Even with sites you know, show some caution.
Tell kids that if they post something on the Web, don't ever include address, phone number, school name, or photo. Encourage them to get your permission if there is a product or service that requires an email address.
Teach your children that they shouldn't download anything without you present.
Encourage older children to download only from sites you know and trust.
Ensure cell phone privacy.
Give out cell number only to trusted and familiar people. Encourage your children and teens to ignore text messages from anyone they don't know. Get out your manual or visit your cell phone service provider and learn how to block others from calling your phone.
When you have reason for alarm, get involved.
To report suspicious individuals or encounters with your child, contact the National Center for Missing and Exploited Children online or by phone. The information you provide will be reviewed and forwarded to local authorities. www.MissingKids.com or 1-800-THE-LOST
Some Causes for filing a Report:
• Someone you don't know asks your child for personal info or photos.
• You or your child receives unsolicited obscene material from people or companies you don't know.
• A deceptive URL directs you or your child to sites containing obscene or harmful materials.
• Anyone asks your child to send obscene photos or videos.
• Anyone asks your child for sexualactivity.
Information Highways Go Two-Ways
Teach children that their own online behavior is expected to be respectful. Their actions can be tracked and kept online, and the Internet is a public forum. Anything posted or uploaded to it is traceable.
What Not to Do
Don't avoid the Internet or keep your children away from technology. While the Internet, like anything, can present dangers, education is the ultimate defense.
Empower Your Family with These Helpful Websites
www.WiredSafety.org
Download the document, "Parenting Online," a helpful resource for parents, children and teachers.
www.MissingKids.com/AdCouncil
This site offers a glossary of terms to help parents understand shorthand terms used in Instant Messages and chat rooms. After exploring its resources, parents and children can take safety quizzes.
www.CyberTipline.com
Learn about online safety and quickly and easily file concerns at The National Center for Missing & Exploited Children's site.